The Irrevocable Laws Of God
March 9, 2021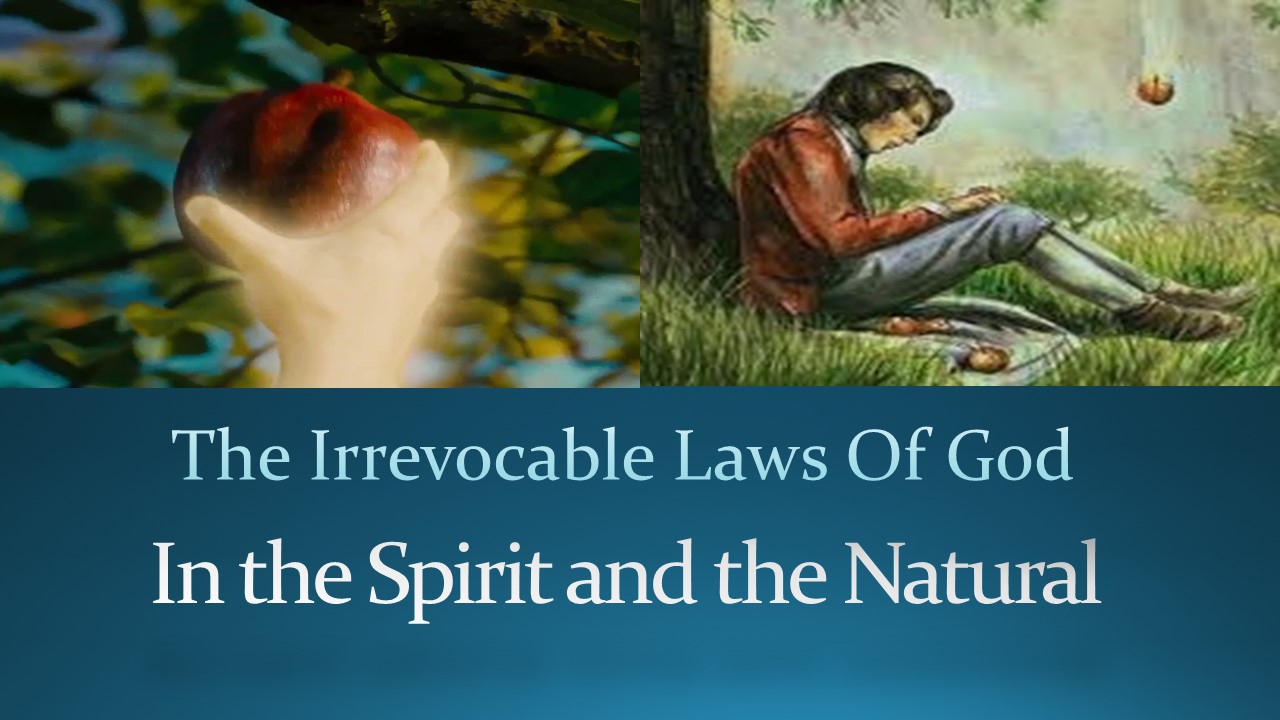 The Irrevocable Laws Of God
In the Spirit and the Natural
With: Rev. Brian Moseley
Genesis 1:26-28
"26 Then God said, "Let Us make man in Our image, according to Our likeness; and let them rule over the fish of the sea and over the birds of the [a]sky and over the cattle and over all the earth, and over every creeping thing that creeps on the earth." 27 God created man in His own image, in the image of God He created him; male and female He created them. 28 God blessed them; and God said to them, "Be fruitful and multiply, and fill the earth, and subdue it; and rule over the fish of the sea and over the birds of the [b]sky and over every living thing that [c]moves on the earth."
Jeremiah 17:9
"9    The heart is more deceitful than all else And is desperately sick; Who can understand it?"
John 4:24
"24 God is [a]spirit, and those who worship Him must worship in spirit and truth."
Colossians 2:15
"15 When He had [a]disarmed the rulers and authorities, He made a public display of them, having triumphed over them through [b]Him."
Psalms 89:34
    34 "My covenant I will not [a]violate,Nor will I alter [b]the utterance of My lips.
Hebrews 6:18
  "18 so that by two unchangeable things in which it is impossible for God to lie, we who have [a]taken refuge would have strong encouragement to take hold of the hope set before us." 
  Hebrews 1:3
  " 3 [a]And He is the radiance of His glory and the exact representation of His nature, and [b]upholds all things by the word of His power. When He had made purification of sins, He sat down at the right hand of the Majesty on high," 
 Psalms 15:4.         
 "4 In [a]whose eyes a reprobate is despised, But [b]who honors those who fear the Lord; He swears to his own hurt and does not change;"
 Genesis 1:1
1 In the beginning God created the heavens and the earth.
Psalms 78:41
"Again and again they [a]tempted God, And pained the Holy One of Israel."
James 4:6-7 
"6 But He gives a greater grace. Therefore it says, "God is opposed to the proud, but gives grace to the humble." 7 Submit therefore to God. Resist the devil and he will flee from you."
2 Peter 3:9
"9 The Lord is not slow about His promise, as some count slowness, but is patient toward you, not wishing for any to perish but for all to come to repentance."
1 John 2:2
2 and He Himself is the [a]propitiation for our sins; and not for ours only, but also for those of the whole world.
Ephesians 2:8
"8 For by grace you have been saved through faith; and [a]that not of yourselves, it is the gift of God"
Romans 10:13
"13 for Whoever will call on the name of the Lord will be saved."
Romans 5:2
"2 through whom also we have obtained our introduction by faith into this grace in which we stand; and [a]we exult in hope of the glory of God."
Luke 11:11 – 13
11 Now [a]suppose one of you fathers is asked by his son for a [b]fish; he will not give him a snake instead of a fish, will he? 12 Or if he is asked for an egg, he will not give him a scorpion, will he? 13 If you then, being evil, know how to give good gifts to your children, how much more will your [c]heavenly Father give the Holy Spirit to those who ask Him?"
Matthew 7:13 – 14
13 "Enter through the narrow gate; for the gate is wide and the way is broad that leads to destruction, and there are many who enter through it. 14 For the gate is small and the way is narrow that leads to life, and there are few who find it.
Matthew 7: 7-8
7 "[a]Ask, and it will be given to you; [b]seek, and you will find; [c]knock, and it will be opened to you. 8 For everyone who asks receives, and he who seeks finds, and to him who knocks it will be opened.
James 4:7
7 "Submit therefore to God. Resist the devil and he will flee from you."
1 Corinthians 1:26. 
26 For [a]consider your calling, brethren, that there were not many wise according to [b]the flesh, not many mighty, not many noble;
John 8:32
"32 and you will know the truth, and the truth will make you free."
Romans 8:28
"28 And we know that [a]God causes all things to work together for good to those who love God, to those who are called according to His purpose."
Hebrews 2:14
"14 Therefore, since the children share in [a]flesh and blood, He Himself likewise also partook of the same, that through death He might render powerless him who had the power of death, that is, the devil,"
Psalms 90:10
"10 As for the days of our [a]life, [b]they contain seventy years, Or if due to strength, eighty years, Yet their pride is but labor and sorrow; For soon it is gone and we fly away."
James 1:13-17
"13 Let no one say when he is tempted, "I am being tempted [a]by God"; for God cannot be tempted [b]by evil, and He Himself does not tempt anyone. 14 But each one is tempted when he is carried away and enticed by his own lust. 15 Then when lust has conceived, it gives birth to sin; and when sin [c]is accomplished, it brings forth death. 16 Do not be [d]deceived, my beloved brethren. 17 Every good thing given and every perfect gift is from above, coming down from the Father of lights, with whom there is no variation or [e]shifting shadow."
John 10:10
"10 The thief comes only to steal and kill and destroy; I came that they may have life, and [a]have it abundantly."
Isaiah 5:20
"20 Woe to those who call evil good, and good evil;Who [a]substitute darkness for light and light for darkness;Who [b]substitute bitter for sweet and sweet for bitter!"
Mark 6:5 – 6
5 And He could do no [a]miracle there except that He laid His hands on a few sick people and healed them. 6 And He wondered at their unbelief. And He was going around the villages teaching.
Ephesians 4:26 – 27
26 Be ye angry, and sin not: let not the sun go down upon your wrath: 27 Neither give place to the devil.
Ephesians 6:12
12 For we wrestle not against flesh and blood, but against principalities, against powers, against the rulers of the darkness of this world, against spiritual wickedness in high places.
Mark 7:13
13 Making the word of God of none effect through your tradition, which ye have delivered: and many such like things do ye
Romans 8:22 – 27
22 For we know that the whole creation groaneth and travaileth in pain together until now.
23 And not only they, but ourselves also, which have the firstfruits of the Spirit, even we ourselves groan within ourselves, waiting for the adoption, to wit, the redemption of our body.
24 For we are saved by hope: but hope that is seen is not hope: for what a man seeth, why doth he yet hope for?
25 But if we hope for that we see not, then do we with patience wait for it.
26 Likewise the Spirit also helpeth our infirmities: for we know not what we should pray for as we ought: but the Spirit itself maketh intercession for us with groanings which cannot be uttered.
27 And he that searcheth the hearts knoweth what is the mind of the Spirit, because he maketh intercession for the saints according to the will of God.
John 14:16 – 17
16 And I will pray the Father, and he shall give you another Comforter, that he may abide with you for ever;
17 Even the Spirit of truth; whom the world cannot receive, because it seeth him not, neither knoweth him: but ye know him; for he dwelleth with you, and shall be in you.
Jude 1:20
20 But ye, beloved, building up yourselves on your most holy faith, praying in the Holy Ghost,
Romans 8:28
28 And we know that all things work together for good to them that love God, to them who are the called according to his purpose.
John 3:8
8 The wind bloweth where it listeth, and thou hearest the sound thereof, but canst not tell whence it cometh, and whither it goeth: so is every one that is born of the Spirit.
James 4:7
7 Submit yourselves therefore to God. Resist the devil, and he will flee from you.
James 1:2 – 4
2 My brethren, count it all joy when ye fall into divers temptations;
3 Knowing this, that the trying of your faith worketh patience.
4 But let patience have her perfect work, that ye may be perfect and entire, wanting nothing.
Romans 15:4
4 For whatsoever things were written aforetime were written for our learning, that we through patience and comfort of the scriptures might have hope.
Galatians 5:22 – 23
22 But the fruit of the Spirit is love, joy, peace, longsuffering, gentleness, goodness, faith,
23 Meekness, temperance: against such there is no law.
James 1:13 – 17
13 Let no man say when he is tempted, I am tempted of God: for God cannot be tempted with evil, neither tempteth he any man:
14 But every man is tempted, when he is drawn away of his own lust, and enticed.
15 Then when lust hath conceived, it bringeth forth sin: and sin, when it is finished, bringeth forth death.
16 Do not err, my beloved brethren.
17 Every good gift and every perfect gift is from above, and cometh down from the Father of lights, with whom is no variableness, neither shadow of turning.
Deuteronomy 30:19
19 I call heaven and earth to record this day against you, that I have set before you life and death, blessing and cursing: therefore choose life, that both thou and thy seed may live:
Proverbs 23:7
7 For as he thinketh in his heart, so is he: Eat and drink, saith he to thee; but his heart is not with thee.
Mark 7:13
13 Making the word of God of none effect through your tradition, which ye have delivered: and many such like things do ye.
Psalms 91:6 – 8
6 Nor for the pestilence that walketh in darkness; nor for the destruction that wasteth at noonday.
7 A thousand shall fall at thy side, and ten thousand at thy right hand; but it shall not come nigh thee.
8 Only with thine eyes shalt thou behold and see the reward of the wicked.
Isaiah 54:17
17 No weapon that is formed against thee shall prosper; and every tongue that shall rise against thee in judgment thou shalt condemn. This is the heritage of the servants of the Lord, and their righteousness is of me, saith the Lord.
2 Corinthians 2:14
14 Now thanks be unto God, which always causeth us to triumph in Christ, and maketh manifest the savour of his knowledge by us in every place.
John 3:36
36 He that believeth on the Son hath everlasting life: and he that believeth not the Son shall not see life; but the wrath of God abideth on him.
1 John 5:4
4 For whatsoever is born of God overcometh the world: and this is the victory that overcometh the world, even our faith.
Romans 8:3
3 For what the law could not do, in that it was weak through the flesh, God sending his own Son in the likeness of sinful flesh, and for sin, condemned sin in the flesh:
Deuteronomy 28:13
13 And the Lord shall make thee the head, and not the tail; and thou shalt be above only, and thou shalt not be beneath; if that thou hearken unto the commandments of the Lord thy God, which I command thee this day, to observe and to do them:
Luke 4:18 – 21
18 The Spirit of the Lord is upon me, because he hath anointed me to preach the gospel to the poor; he hath sent me to heal the brokenhearted, to preach deliverance to the captives, and recovering of sight to the blind, to set at liberty them that are bruised,
19 To preach the acceptable year of the Lord.
20 And he closed the book, and he gave it again to the minister, and sat down. And the eyes of all them that were in the synagogue were fastened on him.
21 And he began to say unto them, This day is this scripture fulfilled in your ears.
Ephesians 2:8
8 For by grace are ye saved through faith; and that not of yourselves: it is the gift of God:
Ephesians 1:19 – 20
19 And what is the exceeding greatness of his power to us-ward who believe, according to the working of his mighty power,
20 Which he wrought in Christ, when he raised him from the dead, and set him at his own right hand in the heavenly places,
Philippians 4:19
19 But my God shall supply all your need according to his riches in glory by Christ Jesus.
Proverbs 13:12
12 Hope deferred maketh the heart sick: but when the desire cometh, it is a tree of life.
1 John 2:20
20 But ye have an unction from the Holy One, and ye know all things.
Psalms 89:34
34 My covenant will I not break, nor alter the thing that is gone out of my lips.
Psalms 138:2
2 I will worship toward thy holy temple, and praise thy name for thy loving kindness and for thy truth: for thou hast magnified thy word above all thy name.
Hebrews 1:3
3 Who being the brightness of his glory, and the express image of his person, and upholding all things by the word of his power, when he had by himself purged our sins, sat down on the right hand of the Majesty on high:
Psalms 78:37 – 38
37 For their heart was not right with him, neither were they stedfast in his covenant.
38 But he, being full of compassion, forgave their iniquity, and destroyed them not: yea, many a time turned he his anger away, and did not stir up all his wrath.
Jeremiah 29:11
11 For I know the thoughts that I think toward you, saith the Lord, thoughts of peace, and not of evil, to give you an expected end.
Psalms 78:40 – 41
40 How oft did they provoke him in the wilderness, and grieve him in the desert!
41 Yea, they turned back and tempted God, and limited the Holy One of Israel.
Romans 3:27
27 Where is boasting then? It is excluded. By what law? of works? Nay: but by the law of faith.
Romans 8:2
2 For the law of the Spirit of life in Christ Jesus hath made me free from the law of sin and death.
Mark 11:23 – 24
23 For verily I say unto you, That whosoever shall say unto this mountain, Be thou removed, and be thou cast into the sea; and shall not doubt in his heart, but shall believe that those things which he saith shall come to pass; he shall have whatsoever he saith.
24 Therefore I say unto you, What things soever ye desire, when ye pray, believe that ye receive them, and ye shall have them.
Isaiah 45:11
11 Thus saith the Lord, the Holy One of Israel, and his Maker, Ask me of things to come concerning my sons, and concerning the work of my hands command ye me