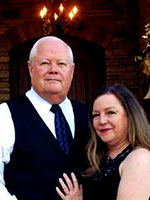 Dr. Ronald & Sheila Powell
Bishop, Founding Pastor, & Family Therapist
Founders of Crosswinds International 1989,
Married to Sheila July 1974,
One Daughter, Brooke (Powell) Lynch…Born March 10, 1980,
Grand Parents of Five, 4 Grand Daughters & 1 Grand Son.
Dr. Ronald K. Powell is an internationally recognized Christian leader, accomplished Christian therapist and entrepreneur. Dr. Powell has a distinguished world-wide reputation as a Christian mentor. He is also a much sought-after Life Strategist, Personal Advisor, Writer, and Motivational Speaker. Dr. Powell is a time proven prophet with laser like accuracy. Reports of amazing miracles and healing with positive life changing evidence continually follow his ministry. Drawing from his background in Christian ministry, national and international church and mentoring school training and development, leadership expertise, and world-wide broadcast, Dr. Powell touches lives through his wisdom and extraordinary insight, providing avenues of transformational change to individuals from every walk of life.